Discover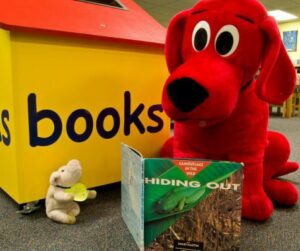 General Information
The Lane Memorial Library Children's Room provides materials and programs for children and families from birth through sixth grade. We also provide assistance to teachers, caregivers, and others working with children. The Children's Room contains picture books, board books, beginning readers, early chapter books, fiction books, non-fiction books, audio books in CD and Playaway formats, and DVDs. The Children's Room additionally contains a small Education and Parenting section, a portion of the extensive collections found in Nonfiction.
Library Cards
Any child age 7 and older who is a Hampton resident may get a library card. A brief form must be filled out, including proof of address for the child's parent/guardian. Additionally, a parent/guardian signature is required for cardholders under the age of 18. (Parents should be aware that under NH law, we provide checkout information only to the cardholder.)
Special Programs
The Children's Room offers special programs and events throughout the year. These include sing–alongs, storytellers, a Valentine's Day Tea Party, animal programs, special arts and crafts projects and science programs. We also offer a fantastic Summer Reading program from late June to early August. Programs are sponsored by the town of Hampton and the Friends of the Lane Memorial Library . Please check the Library Event Calendar for a complete list of programs and to register online, or call the Children's Room for more information at (603) 926-4729.
School Visits and Tours
We welcome classes to come and visit the library. Please call ahead to arrange a date and time so that the librarians can provide the best service and meet the needs of your class.
Display Case
The Children's Room has a display case in which we showcase various collections. If you have a collection that you would like to show off, call or stop by to sign up. We maintain a list of children interested in providing a display and will call you when the next available month is free.
Homework Help
We can assist children with choosing materials for school assignments and choosing books for book reports. Call us directly at (603) 926-4729, or check our online resources.  We also welcome the opportunity to work in cooperation with area schools and teachers to meet curriculum requirements. Teachers may fill out our Assignment Alert Form to notify the library of upcoming assignments that will require library or online research.
Safe Child Policy
While the library encourages use by all age groups, the library does not serve as a babysitting agency. Children at the 3rd grade level and below must be accompanied by a parent or guardian while at the library.
–Those at and below the 1st grade level must be accompanied throughout the library, including the Children's Room.
–Those at the 2nd and 3rd grade levels may be outside of the direct supervision of their guardian provided that they do not then require the supervision of library personnel.
We define a "guardian" as a legal adult or a high–school aged minor. We reserve the right to deny minors the role of guardian if those under their care are unruly or disruptive. Parents must pick up their children by library closing time. All persons at the library at closing will be asked to leave library premises.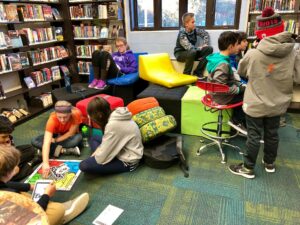 The Lane Memorial Library's Teen Room is where Teens will find a wide collection of fiction books chosen for their appeal, as well as comfy seating, board games, video games, and art supplies.
Through a variety of programs offered during the year, our librarians highlight the collection while strengthening habits of reading and library use, supporting independent learning, and developing imagination.
Special Teen Activities
Teens crafts, movies, and games throughout the year.
National Library Week in April.
Summer Reading events are based on the summer reading theme.
TeenTober is a new, nationwide celebration hosted by libraries every October and aims to celebrate teens, promote year-round teen services and the innovative ways teen services helps teens learn new skills, and fuel their passions in and outside the library.
Community Services: Students may download the volunteer application and bring it to the library. These hours are not guaranteed, but we will do our best to accommodate.
Access
The Teen Area is for students in 6th–12th grade and equivalent homeschool students. While patrons of all ages are welcome to browse and check out materials from the Young Adult Collection, the use of computers, television, other electronic equipment, and participation in other stand–alone activities within this area are exclusively for the use of such teens as defined above. The library reserves the right to utilize the Teen Room for scheduled teen programs, events and gaming activities. The Teen Area's primary purpose is the teen programs, events, and gaming activities.
Teens are expected to adhere to all the rules stated in our General Library Policy.
As space and resources allow, Librarians may elect to invite students in the 5th grade to participate in events.